Tipping Points: Why we might not be able to reverse climate change
 12 minute read
 Updated on: 23 Dec 2020
What is a tipping point?
Imagine rolling a ball up a hill. As you walk up the hill, if you push the ball up a bit it will simply roll back into your hands.
However, once you roll the ball over the top of the hill it will keep on rolling away and you'll lose it. Here, the top of the hill is the 'tipping point'; at that point, if you give the ball the tiniest extra push it will roll away from you and won't stop!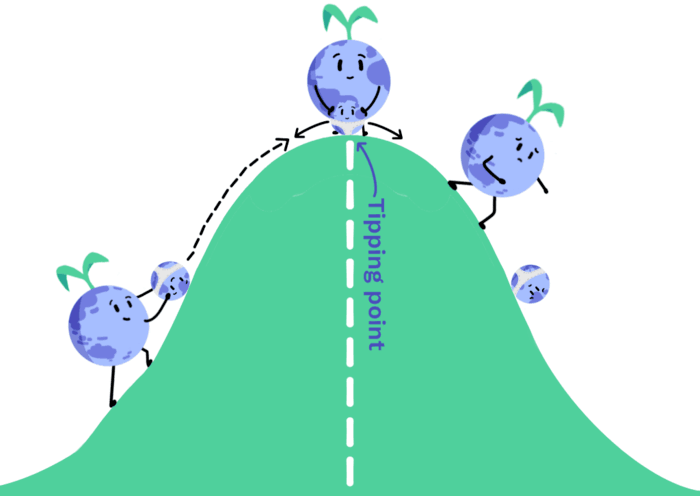 Normally, our Earth's systems behave in a similar way to the ball at the bottom of the hill - if we give them a little push by changing them slightly, they will eventually return to their natural state
. However, if we cause our Earth system to change a lot, by increasing the amount of greenhouse gases (GHGs) in the atmosphere for example
, the ball moves to the top of the hill, so any little extra push will cause a huge and irreversible change
. This is called a 'tipping point'
. This is because the 'tipping point' is more emissions that what our planet can absorb therefore causing climate change.
Crossing a tipping point is irreversible because you can't simply return to the original state of the climate system by undoing the small change
. It triggers an unavoidable change which can be sudden and immediate
, or may be delayed and happen years into the future
.
Have we passed any tipping points?
Until recently, scientists thought that it was unlikely that we would pass any global-scale climate tipping points this century
. However, there is now increasing evidence and agreement that we are closer to crossing tipping points than we thought
.
Tipping point 1: El Niño Southern Oscillations (ENSO)
Normally in the South Pacific Ocean there are strong winds which blow to the west from South America to Australia
. These push the warm surface water to the west causing cold water from the deep ocean to rise in the east
.
Warm surface ocean water causes air to rise, leading to more cloud and rainfall in the west and, therefore, a flow of air in the atmosphere
. This flow of air strengthens the strong winds
.
So where does El Niño come in? Well around every 2-7 years
the westerly winds start to weaken
due to an unusual change in the distribution of pressure at the surface of the Southern Pacific ocean
.